Welcome and happy 2010! This year, we will be posting challenges every other week so that you all have plenty of time to try them out before we move on to the next one.
We decided to start the year right and create a project where you choose what you want to create, as long as your project incorporates at least 50% recycled products. For example, a chipboard album or embellies made from a cereal box; a candy or trinket gift jar using a recycled food jar; or home décor using an old hardcover book covered in patterned paper, etc.
Below is what our design team members came up with. This is the debut of some of our newest design team members and they did not disappoint! We hope you have fun with this challenge. Please remember to use Mr. Linky to link us to your projects!
Denise created this awesome mailbox, so if you missed the cute mailboxes at Target, you can use these, which are even cuter! Denise made an svg file for the box and cut it with SCAL (check out the video on her
blog
). What did Denise recycle? The box itself is cut from a gift box, and the flag is a piece of plastic from gift packaging. Her family laughed at her on Christmas morning because she kept saying "don't throw that out!" Way to go green!
Lia turned plastic bags (inked with Tim Holtz alcohol inks) into the sheets of pages for this fabulous mini album with a cover decorated with Basic Grey that was made from an old cardboardbox!
Next is Lisa's monogrammed note card holder. Look how pretty this is. Lisa recycled one of the many gift card holders we all have laying around after the holidays by decorating it and filling it with handmade note cards. How cute is that?! Lisa turned this...
Into this...
MsDee created this beautiful Valentine's Day card using the new Cricut Love Struck Mini Cartridge to die cut pieces from recycled aluminum cans, her Cuttlebug to emboss the recycled aluminum can pieces for the hearts (clever!), and Ranger alcohol inks to color them. Isn't this fabulous? I never would have thought the can was thin enough to die cut and emboss!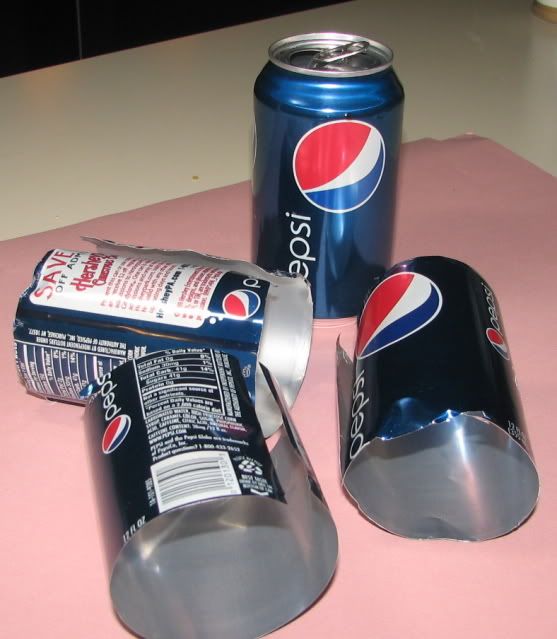 Myra altered recycled pop-top canned fruit cans by using a safety can opener to open the can from the bottom, emptying the contents and then filling the cans with goodies. She then re-glued the bottom of the can with liquid adhesive and decorated and embellished the cans. This is a cute gift idea and there are plenty of tutorials on the web for this technique.
Susie also used something in abundance after the holidays. Susie made these beautifully decorated storage tins for her crafting supplies using recycled cookie and candy tins! What a great way to get your craft space organized for the new year and recycle something we have in abundance.
Terry made this awesome mini-album from a recycled frozen food carton! Now that is clever. She also embellished some of the pages with a grocery store ad from her local paper. Now that is very green!
We sure hope we've inspired you to go green too. Now it's time to go grab some recyclable stuff and show us what you've got!